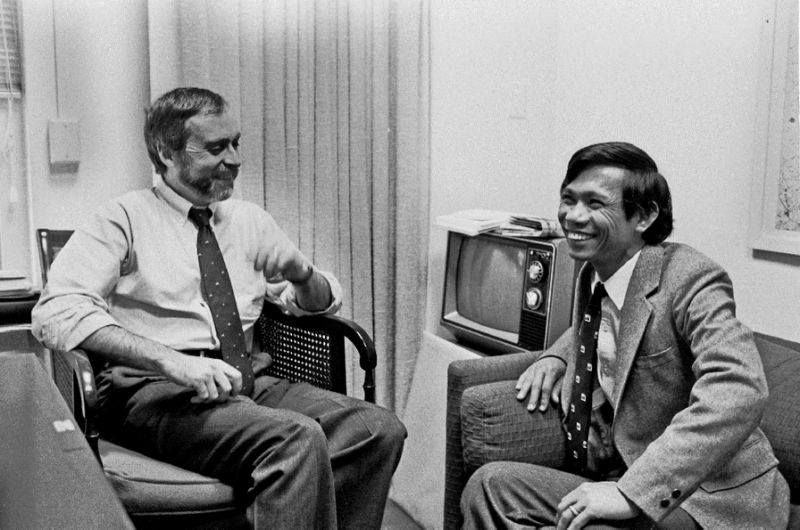 Sydney Schanberg 1934-2016
I 
He chronicled the master of Cambodia's campaign
Captured with camera the politics of pain
Pol Pot led the Khmer Rouge bloody reign of terror
Schanberg saw the truth, for moments brought us there
A small town kid, '34, oh what life will yield
From working in his father's store to the night of killing fields
HIstory's eye witness,  with his friend Dith Pran
Their work is always with us, now both of them are gone
Restive and intense, with bulldog tenacity
Recording without assent what we weren't meant to see
At least two million disappear, tortured, murdered, starved
He and Pran bring it here – are we sure of who we are?
Schanberg (American) against his will, evacuated
Pran is left there, nearly killed, amazing but he made it
They find each other once again, Hollywood's abuzz
War story, unlikely friends, Oscar falls in love
II
Who are we in this great plan?
Are we Schanberg and Pran?
Would we endanger our own lives
so strangers will survive?
Does there live within us this persistence
that calls us to such resistance?
Or would we terrorize with guns
and burnish pride with knives?
Shoot neighbors' daughters, sons,
rape their husbands and their wives
so we can stay alive?
That we are both seems clear to me
Pran and Schanberg lived their lives, lent their talents
To ensure that love endures, they tipped the balance
Dennis Caraher
Until July 23, until my Kickstarter campaign ends, I am posting new and old poetry and songs.