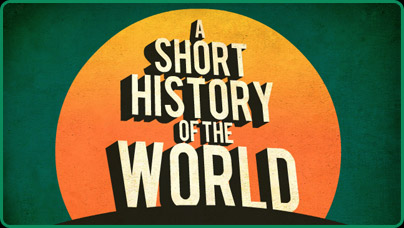 If you like what I do, please check out my latest project on Kickstarter.
God's Plan
God had a plan
Involving Man
So he took a little sand
A little water
And with that clay
He began to play
And on the Sixth Day
Became a Father
Then our Lord
Got a little bored
we got ignored
can you imagine?
And so came Satan
snake, temptation
and the inauguration
of fashion
After the Fall
Problems to solve
needed to evolve
a little further
So we invented steel,
Weapons and wheels
saw the appeal
of murder
Then tyronnasaurus
Roamed through the forest
so we hid indoors
became artistic
images appeared
killin' bison and dear
and lived in fear
of critics  
Some had had enough
Of sweaty Africa
So we packed it up
For northern places
We invented flax
Domesticated cats
And on top of all that
Became racists.
Every century or so, God would say "Hi" and then
"It wasn't meant to be oh so violent".
Horrified at genocide
He'd wipe out another tribe.
Calming down he did decide
To give us all another try.
God had a plan:
God becomes man
He'll take a stand
for his children
He gathred apostles
spread the Gospel
but folks were hostile
and they killed him  
After that
We saw the world wasn't flat
So we made tracks
For the New World
Built a nation
Based on subjugation
And the adoration
Of nude girls.
When Eden fell
God said to himself
"Free Will, hell
What was I thinkin'?
It's not too late
To fix this mistake
Gonna hit escape:
Extinction."
Maybe it's scandalous
the way God abandoned us
But we've got a hand in this
It's plain
We build ethereal cathedrals
Cure malaria and measles
But forever primeval
We remain